Arma's VJ-Homecoming 76th Celebration Event
Why We Celebrate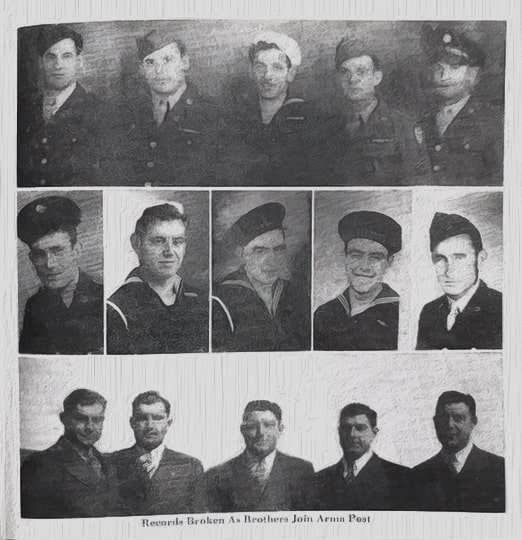 While Homecoming is defined as an annual tradition in the United States in which celebrations welcome back former members of a community, The Arma annual Homecoming Celebration is unlike most others.

What began as a Homecoming for the World War II veterans in Arma, Kansas is more than just a traditional Homecoming Celebration, but one that pays tribute to those who serve our country. Arma is Home; Home to the Arma Veterans Memorial and the V-J (Victory over Japan) Homecoming that started at the end of World War II. It is also one of the nation's longest running tributes to those who serve our country.

Arma's V-J Homecoming Celebration is rooted deep within the community with three remarkable families that served our country during World War II. These families are known as the Kovacics, Kmetzs, and Varsolonas, each having 5 sons serving in World War II.

In a time of war that changed the lives of both individuals and families the entire world over, all 15 service members of these 3 families returned home from their part of this historic global conflict.

This remarkable story was featured in the Topeka Capital-Journal Newspaper in 1951. The Varsolona Boys (1st row) consisted of Sam, Paul, John, Charles, and Frank; The Kmetz Boys (2nd row) consisted of Victor, Paul, Frank, John and Andrew; and The Kovacic Boys (3rd row) consisted of Frank, John, Bill, August and Henry.

It is clear why the Arma's V-J Homecoming Celebration quickly became deeply rooted within our community; the joy of families having that moment to come together after much world wide uncertainty and to celebrate being together once again is an event we encourage everyone to embrace with us!

On behalf of the Families of Arma, feel free to join us in our VJ-Homecoming Celebration that embraces the core of Family, Friends, Neighbors, and Community.
Be sure to visit the new:
VJ Homecoming Website
Also give a "Like" on the:
VJ-Homecoming Facebook Page